Stardoll invite Swedish members from Stockholm to The stardoll head office (that also is in Stockholm) To participate in one of the "Focus Groups"
This is what they say (in translate) : Dear Stardollmembers
We are looking for girls aged 15-18 who live in Stockholm and would be willing to participate in one of the Stardoll focus groups.
A focus group is like an interview where we invite you to our office in Stockholm to ask you about using Stardoll and what you think about this site to make it even better.
If you would like to join, sign up below by answering our questions and fill in your contact information so we will get back to you when it's time if we think that you fit our profile.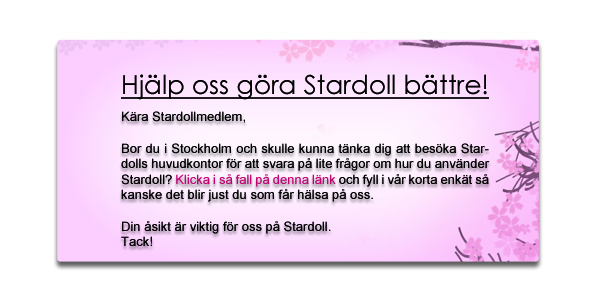 Help us make stardoll better!
Do you live in Stockholm and would like to visit our stardoll head Office to answear some questions, how you use stardoll and so on, go to this link and fill in our short questionnaire, so maby its you who may visit us!
Your opinion is important to us at stardoll.
It sounds good for me, i live near Stockholm! I joined this, filled in the questionnarie :)